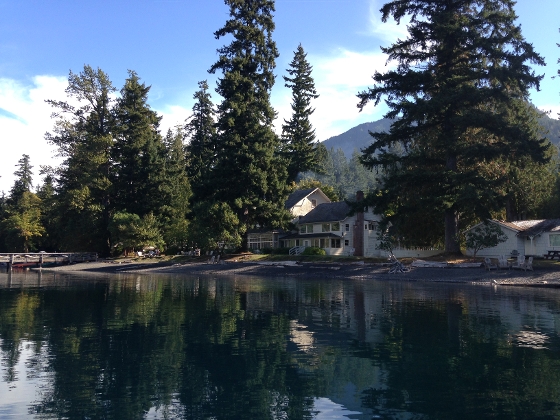 Through the month of September Rosemarie and I were very busy serving you and we needed a breather! On a drizzly sunny early October Saturday morning we boarded the Blackball Ferry and sailed across the Salish Sea to Port Angeles.
Our first stop was some beautifully kept public tennis courts in Port Angeles. We played tennis as the clouds cleared. From there we drove half an hour west along highway 101 to Lake Crescent Lodge, our lodging for our one night getaway. (https://www.nationalparkreservations.com/lodge/olympic-lake-crescent-lodge/#.VDX-H75H0b0) Our cabin was well appointed and the lodge was classic Americana; all wood, folksy, and very inviting!
But first we dropped our bags and headed for the Sol Duc Hot Springs (http://www.olympicnationalparks.com/activities/hot-springs.aspx). That evening we luxuriously soaked amidst the Olympic Mountains, under the stars and a rising moon; relaxing and divine! After a long soak and a delicious meal - I loved my crab mac & cheese! – we drove back to Lake Crescent.
Back at the lodge Rosemarie and I stayed up a while to hang out in the lodge and play crib. The raging fireplace, the dark wood everywhere, the congenial groups scattered about, a glass of Prosecco; all good!
Sunday morning held in store the highlight of our mini-holiday! We rented a canoe and paddled to the far shore of gorgeous Lake Crescent. With a brilliant sun rising over the mountains surrounding us, and with no wind, the clear, blue water was barely rippling.
On the far shore we were amazed at being able to see the plunging mountainside shore as it plunged beneath our canoe. We could see clearly an underwater vista going down 40-50 feet – an underwater mountainside disappearing into the deep, indigo abyss.
Lake Crescent is an extraordinary place and on that exquisitely sunny Sunday morning it was a blessing to be there to sample its breathtaking beauty.
Tom Oak