My "Friends of Rosie" Client Appreciation Party - September 7th, 2014 Victoria's Regent Hotel

Our Annual Client Appreciation Party, Sunday ( September 7th), in the Penthouse Suite of Victoria's Regent Waterfront Hotel was another resounding success!

We were blessed with beautiful sunshine and blue skies and enjoyed taking in the fabulous inner harbour views along with watching the ferries, kayakers and float planes come and go about their business.


There was a celebratory atmosphere throughout the evening with great live music performed by our three guest artists: Alex Klassen our Cello Soloist, Sue Decker's folk guitar and the dynamic duo of Sean Holland's & Suzanne van Assum, jazzy blues set. Click here to listen to Sue Decker and Sean Holland live: http://youtu.be/fkTPxVwaggQ

Alex Klassen
Sue Decker
We were proud to announce that Tom Oak, part of the Rosie Team for many years has now become a Licensed Realtor, making our team even stronger and working even harder for you...

Great fun was had by all, with many guests happily going home with wonderful Door Prizes. Good food, tasty beverages, free neck massages, (compliments of Callum Greig of Prime Mortgage Works), picture identification contests and vibrant conversation made for a wonderful evening of joy and laughter. "Fun photos with Rosie" was new to this year's party and comprised of a Tickle Trunk full or eccentric hats and accessories for guests to wear and have their photos taken with Rosemarie - this proved extremely popular ( scroll down below for some of the crazy photos! ).
Pat A., one of our many Door Prize winners

We would like to acknowledge our wonderful Sponsors, along with Rosie, who contributed to the success of our event with numerous valuable door prizes; $100 Home Depot Gift Card, $50 Winners Gift Card, Murchies Tea Gift Sets, a Landscape Design Consultation, Free Business signage and much, much more.


The event could not have run smoothly without the help of our three daughters; Alexis, Nicolia and Rhea who seamlessly took care of all aspects of the food, event preparation and delivery from start to finish. Also a Big "Thank you" to Nick Packard, our fabulous Bartender!
A special prize of one night's accommodation for up to four people in a 2 bed Executive Suite with complimentary breakfast was raffled for clients who either referred business to Rosie this past year or who brought guests to the party and signed them up. The grand prize winner this year was: ".Debbie Chew, yeah Debbie!....".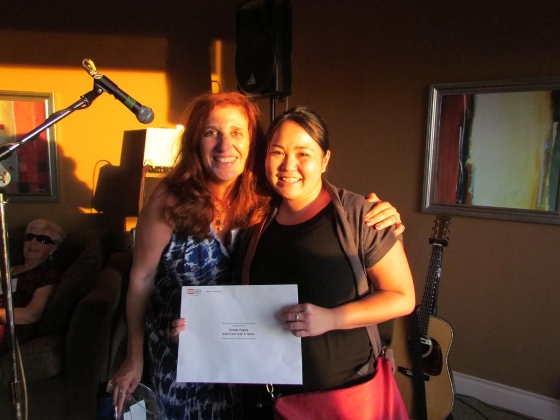 Our Grand Prize winner - Debbie Chew

We are so very grateful to all our clients, it is you that have made this business such a pleasure and success. Many thanks to all of you who attended this year's event. You made is so special!


Rosie and Tom especially want to thank:
Callum Greig - DLC Prime Mortgage Works
Bill Ethier - President of Royal LePage Coast Capital Realty
Earl Wilde - General Manager of Victoria Regent Waterfront Hotel
James Parr - Safe & Sound Home Inspection
Melanie Henson - Home Style Solutions
Matt Heath - Proper Measure
Neils Nohr - Realfoto
Charlotte Alcock - Norwex Enviro Products
Rose Glen - Creative Sign Design
Jillian & Byran Tuson & Tonia Hepburn - Pillar Landscapes
Vanessa Backlund – Lyoness
Doshu and Soshin for lending us their van.
"Fun Photos with Rosie!":
All the Event Photos: http://rosiesays.ca/rosies-client-appreciation-event.html